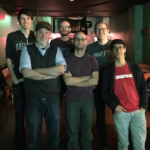 North Coast Modular Collective is a group of musicians, makers, artists, coders, and technologists, who are focused on three things:
spreading curiosity

enabling exploration

and fostering community.
We make electronic music gear, hold shows, and engage with the public through presentations, education, and open source projects.
Follow us on social media to stay in touch with the latest developments.
For a deeper dive:
North Coast Modular Collective members, Bill Van Loo and Joe Bauer, were interviewed by Darwin Grosse for the Art Music Technology Podcast.

Joe Bauer was also interviewed after the North Coast Modular Collective 2018 Showcase by Lonnie Miller of Beyond My Day Job.
Disambiguation: You are at the site for North Coast Modular Collective of southeastern Michigan, USA. If you are looking for North Coast Synthesis, Ltd. of Toronto, Canada; the work of Matthew Skala, his site is at https://northcoastsynthesis.com/   This North Coast and his North Coast are not related. However, even if you're here intentionally, we still recommend checking out Matthew's work once you're done here.