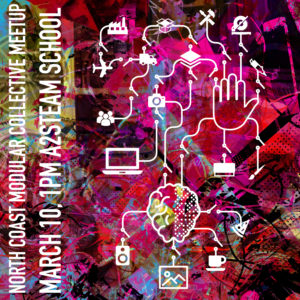 North Coast Modular Collective is hosting a meetup, where you can see what others are doing and share your interests, questions, curiosities, or ideas!
Date/Time: Saturday March 10, 1pm – 4pm
Location: A2 STEAM School, 912 Barton Dr, Ann Arbor, MI 48105
Who: Open to the public. If you're into making sounds with electronic things you've made, this is for you. If you're curious but have never done it before, this is for you.
Theme: Maker/SDIY (Synth DIY)
Agenda:
Presentation/performance #1 – Joe Bauer
Presentation/performance #2 – Steve Curtin
Around the room updates (shout out any opportunities, projects, etc.)
Socialize